Sonja was kind enough to stop by the other day with some wonderful homemade baguette still hot out of the oven with some fresh bruschetta for my family, what a wonderful afternoon lunch for us to enjoy and offered to write a guest post to help me out, such a blessing!


Please stop by
Practical-Stewardship.com
and tell Sonja hi, she has tons of delicious recipes, tasty healthy meal plans and workouts on her site! She's on my list of must read blogs!
I have felt truly blessed to have the support and prayers of all of my friends and family during this time and feel truly grateful for each and everyone of you. I can't wait to be back to regular posting and cooking in my kitchen but for now I feel grateful and blessed for all of the help I received.
Thank you again Sonja you are such a blessing!
Did you ever have those orange creamsicle ice cream treats as a child? How about those little portions of orange sherbert and vanilla ice cream with the little wooden spoons? Well, an orange creamsicle smoothie hits the spot with this nice, warm stretch of weather we've been having in the Pacific Northwest.
Incorporating smoothies into your life is a great way to get a lot of fruits and veggies in your diet. This particular recipe is dairy-free and even has a hidden vegetable that you can't even taste. A carrot. I guess it's not so hidden because it helps to naturally color the smoothie orange.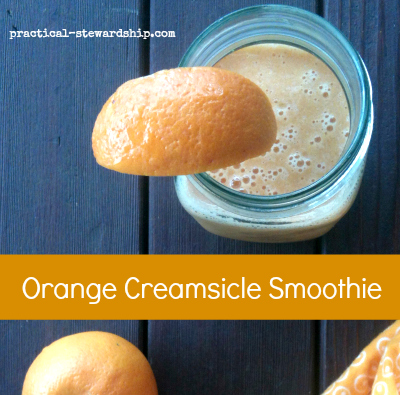 I like my smoothies thicker, so I like to add a lot of ice. If you like a thinner consistency, start out with less ice, and you can always add more later.
Go here for the complete list of recipes.
Sonja is a stay-at-home mom of three kids, ages 8, 6, and 4 and the wife of one handsome husband. She teaches piano, music, and blogs over at Practical-Stewardship.com.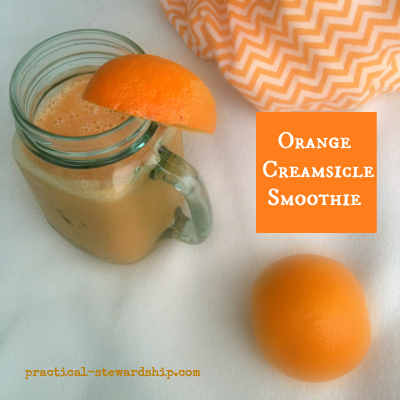 Orange Creamsicle Smoothie
Prep time: PT5M
Cook time: PT0M
Total time: PT5M
Ingredients
1 cup

Milk Of Choice (I used coconut milk)

3

Oranges

1/2-1 whole

Carrot

2 tablespoons

Honey To Taste

1 teaspoon

Flaxseed, Optional

1-2 cups

Ice
Cooking Directions
Place all ingredients in your blender in the order listed.
Blend until smooth.
Serve immediately, and enjoy!